Show your
Avatar/Gravatar
on your blogger comments...
Step #1
First, go to 'Layout' tab and choose the
Edit HTML
section (
Layout
>
Edit HTML
)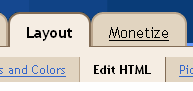 Step #2.
For this step you need to backup your template (click the '
Download Full Template
' to backup your template)

Step #3.
To start editing your template, please click the '
Expand Widget Templates
'

Step #4.
Use
Ctrl+F
to find this line.
and REPLACE it for the following code:

<dl expr:class='data:post.avatarIndentClass' id='comments-block'>


Step #5.
After doing that, look for this line:

<a expr:name='data:comment.anchorName'/>
and ADD the following code right after it:

<b:if cond='data:blog.enabledCommentProfileImages'>
<data:comment.authorAvatarImage/>
</b:if>

Step #6.